1st Dec – Webinar: Creating your own great place to work
9.30 – 10.30 via Zoom.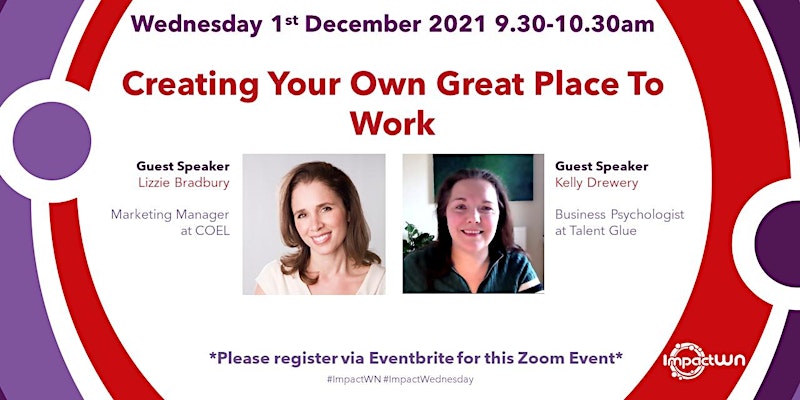 This event about 'Creating your own great place to work' is being hosted by Impact Women's Network. Register here to book via Eventbrite and you will receive details on how to join us on Zoom. We look forward to seeing you there!
Back to the office, hybrid or remote? Wherever you find yourself working, how are you doing at creating your own great place to work?
When people talk about a 'new normal workplace', there are really as many options as there are workers. Finding a set up that's right for you is about much more than decent broadband and an ergonomic chair at home, right? Although these both do seem to have become essential kit. We all have a slightly different relationships with 'work' and the 'workplace' compared with 18 months ago. Wherever we are, we will contribute in different ways as workers – some more visibly than others.
COEL and I have recently conducted research with 300 employers and more than 1,000 workers to understand more about where we all hope to head next. They will share key insights to help prompt a debate around the impact of our more mobile working patterns. Take away some ideas about the deeper issues around creating your own great place to work, wherever you are.
My co-speaker is Lizzie Bradbury. Lizzie is Marketing Manager at COEL, a design and fit out company which specialise in creating exceptional working environments. Throughout COEL's history, their target has always been to deliver workplaces which are healthy and productive. In fact, COEL worked with me before when we conducted research into Wellbeing in the Workplace. This research investigated which physical elements of the workplace benefit employees' health and wellbeing. Roll forward 7 years and Lizzie was interested to work with me again in examining the effects which the pandemic has had on the way we work.